Disclosure: Some of the links below are affiliate links. This means that, at zero cost to you, I will earn an affiliate commission if you click through the link and finalize a purchase.
As the wedding day draws closer each day, the general atmosphere starts heating up, what with the adrenaline and the last-minute preparations of the event. That's why bachelor parties are the sweet spot that serves as a milestone that bridges the gap between stressful organization and the wedding day.
Usually held one to three months before the wedding, they are a perfect occasion for the groom's pals to meet and celebrate the 'last night of freedom' before the big day arrives. And although they are stereotypically thought of in terms of booze and fun outings, bachelor parties also call for proper planning.
Yes, best men – we're looking at you! Other than booking a venue and brainstorming fun bachelor games to play while warming up, you might want to look into some interesting ideas for bachelor party favors which the partygoers will surely delight in. Favor boxes with fun goodies or a custom touch to a symbolic trinkle can go a long way and help everyone who attended remember what's surely going to be an unforgettable night. Scroll through our selection of best party favors out there on the world wide web to get inspired and make the guest smile:
Hangover kit box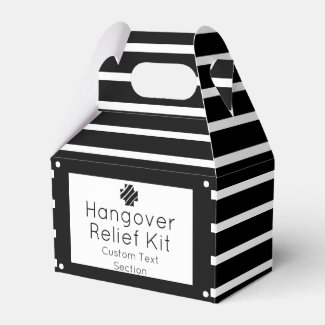 Before going any further down the list of various party favors for men, check out the cliché but, alas, a gift option that is so wildly popular for a reason – a fun hangover relief kit box for each partygoer. If as a best man you're planning a wild get-together with the groom and the rest of the crew, this is a symbolic, if not expected gift to get you through the morning after the night out drinking. This slick monochrome box is a simple yet effective design for a bachelor gathering and is an elegant choice for sure.
 Cigarette label
Who says only beer coolers and wine bottles deserve a personalized label? It's just as easy to customize a cigarette label, as you can see on this Etsy vendor's profile. Create your own cigarette brand for the night or simply write the date and the groom's name to commemorate the joyous occasion that is the bachelor party. Pair it up with a matching whiskey label and you're sure to have a satisfying crew naming you the best men of the century!
Neon gangster hats
What says festivity if not the fluorescent colors that can make the crew recognizable from far away? Let everyone around you know you're celebrating the groom's special night. Don't expect them to be as sturdy as 'normal' everyday fedoras, but, in the words of one of the Amazon customers who left a review for this product: "[…] yes, they are flimsy, but who the heck cares! It's not like your wearing them to church on Sunday." Quite a distinguished look for a unique bachelor party!
Beer holder tie
Assemble the bros for a wild night partying and see to it they can always have a beer within an arms' reach! This Amazon vendor, in particular, sells these beer holders in packs of six or ten, and the one-size-fits-all adjustable necktie means they'll be universal, and you won't have to worry about different sizes of the product. Plus, it's a great keepsake to have once the party is over and will definitely make each groomsman smile in remembrance of the fun memories you're sure to have during the night.
Whiskey set
We've already covered a cocktail set above, but the whiskey lovers might be more satisfied with this gift set. It contains the following:
2x Twisted Whiskey Glasses – 10 oz lead-free crystal glasses
8x Whiskey Stones – Made of natural, machine-polished granite
Whiskey Stone Tray – Dark pine wood tray for easy freezer storage
2x Slate Coasters – With cool quotes
Ice Tongs – Made from 304 stainless steel
Whiskey Cocktail Cards – Popular whiskey cocktail recipes you'll actually enjoy making
Give everyone a gift to remember and an unforgettable whiskey experience!
Luggage tag
About

Kate

Hi! My name is Kate the woman behind the Party Conclusions. I am mum of two beautiful and hyperactive girl and boy. Main purpose of creating Party Conclusions was to share party ideas of all kinds. Here you would find all kinds of party ideas, recipes, printables and inspiration for your next celebration! You can find out more on about me page!