Disclosure: Some of the links below are affiliate links. This means that, at zero cost to you, I will earn an affiliate commission if you click through the link and finalize a purchase.
As you're prepping to organize a crazy stag do for the groom, you're bound to fall into some planning pitfalls regarding the various details you might've thought of at the last minute. Bachelor party invitations usually fall into this category and are sometimes overlooked. This is because the best men often get sidetracked with the larger aspects of the event organizing and fail to consider the finishing touch of a well-thought-through invitation.
But, you'd be surprised how much creative wording and a carefully selected photo can build expectations among the partygoers. For this reason, don't skip them or simply send a simple bachelor party email with plain text only. Instead, scroll on and find various suggestions for all types of unique bachelor party ideas in this post. From various types of invitations you can order to DIY and free templates to consider, it's up to you to pick. Without further ado, let's begin the search!
Ready-made invitations
If you don't have the time to get creative yourself or simply don't feel up to the task, don't worry. Just like bachelor party decoration items, there are plenty of vendors selling stag do invitations of numerous designs. To save time browsing, check out our top picks and see if they fit the party theme:
Vintage bachelor party invitations
Is the stag do going to be a classy event, such as a, say, wine tasting dinner or lunch at an exclusive restaurant? Then by all means consider this type of old-timey invitation. The word arrangement looks a bit like Jack Daniel's label, right?  Still, it's a rather old-school one, and with it you can add age, texture and depth to the words themselves. One thing's for certain – with an invite card like this, there's no need to announce the dress code. Why? Because all the guys will automatically suit up!
Video game night bach party invitations
For a more informal bachelor party, such as a video game night at the groom's place, here's a fun idea. Whether you're renting out an arcade for the afternoon or going out paintballing, gamers will love this type of invitation. They will also serve for other game-related bachelor party activities, such as laser tag, carting, scavenger hunt, or perhaps even a board game night as well.
Golf ball invitation
For all the golf aficionados out there, this will be a true hit! Not only is it an original way to convey the message that they're invited to be part of the grooms' crew, but they are a great keepsake as well. So, they can even be a part of bachelor party favors as well – quite convenient, right? In this way, you get to kill two birds with one stone or, in golf lingo, hit two balls in one shot!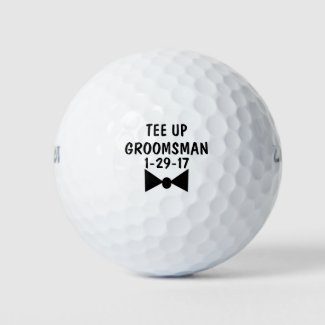 Black and white invitation
Another classy, black and white option that works for all kinds of bachelor party types, really. It's an all-rounder, as the monochrome colors can really be applied as a general tone to any event, be it formal or more casual. The print itself is reminiscent of The Godfather movie poster, with the rose over the left pocket adding an extra touch of symbolism. Heck, the movie even starts with a wedding – it could easily be incorporated into a casino bachelor party theme.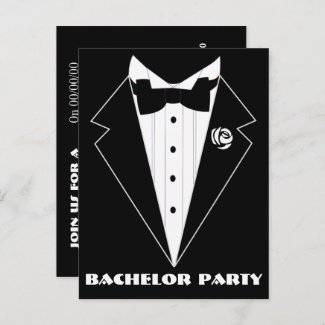 'Game over' invitation
Fun slogans are always appreciated, especially if the party's going to be held in a more relaxed setting. While marriage being presented as the end-of-the-world scenario may not be interesting for everyone, it's still a popular joke. With this in mind, it might or might not resonate with the crew, so bear in mind the groom takes the joke lightly – no more partying all night with his pal, now it's future planning with his gal!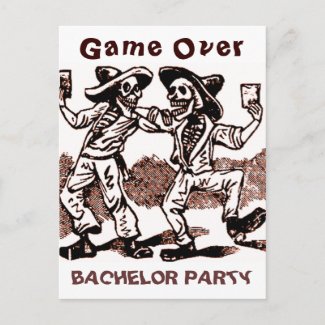 'Straight outta dating' invitation
While this one's originally created for the purpose of an engagement party, you can customize it according to your needs. The vendor gives you the option to personalize it depending on the type of event – and you have to admit that the phrase is quite funny. As far as wedding jokes go, this is an original in the sea of ball-and-chain, game-over ones.
Frisbee invitation
Why settle for a simple bachelor party text message when there's invites as original as this one? It's a great token of remembrance which will remain long after the party's over. Plus, hey, if you're planning an outdoor gathering, such as a garden or beach bachelor party, it might even be used as a warm-up game. Heck, why hand in your invitation when you can just throw one to the partygoer?! Talk about original invitations, right?
Sophisticated bachelor party invitation
Back to the sophisticated versions of stag do party invites. This is a rather stripped-down version of the suit and tie black and white invitations, but they are so common because they work. They can be used for any type of event, and you'll find plenty of different shapes and sizes available on the Zazzle link. Of course, if you feel like changing the photo or rearranging the textboxes, you may do so – the vendor provides the 'create from scratch' option as well.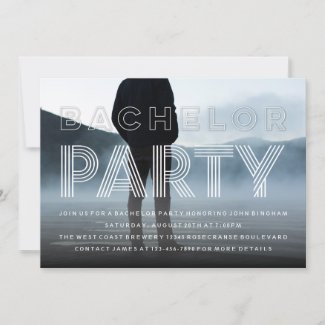 Stag do invitation
You might not be from Australia, but the term stag do is not just associated with this country. It's a well-known synonym for the bachelor party held in honor of the soon-to-be groom. So, a quite literal picture of a stag on an invitation might seem a bit banal at first sight. Or, on the other hand, the minimalistic design is exactly what you're looking for, in which case this might be just the bachelor party invitation idea that wins you over!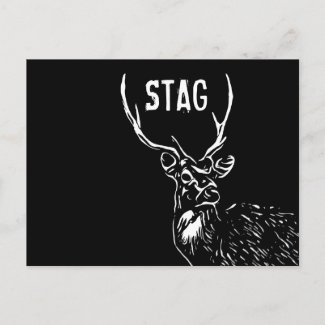 Customized pen invitation
Here's another example of an invitation and a keepsake all tied together. We all need pens throughout our day-to-day lives and carrying one around is always convenient. However, we do tend to lose them quite easily. The fitting solution is right here – create memories during the bachelor party, which the crew will tie to the pen. Voila – they are now automatically an important souvenir they'll keep an eye on!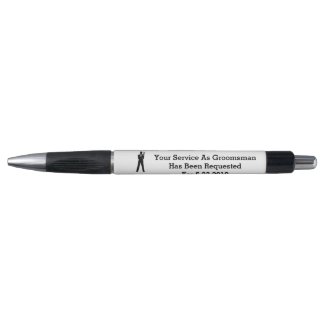 Naughty invitation card
We try to keep our suggestions classy, but a naughty invite might add a touch of excitement to the guys' night. Even if it's only for show, an invite like this might be a fun way of pranking the groom. The great thing about this Etsy vendor is that they allow for digital download which is editable. The groom will either be delighted or embarrassed, but no matter the reaction, the partygoers will surely be curious to know what's planned for the night!
Ticketmaster style invitations
A retro concert ticket truly stands apart from the standard letter ones. It is bound to bring out some nostalgic feels, especially now in the era when digital invitations are becoming the new norm. Surprise the partygoers with an unexpected invitation that they'll hold dear even after the party ends.
Godfather themed invitation
Give the groomsmen an offer they can't refuse! Plan an awesome bachelor party and invite them like a boss, well, not exactly a mafia mob boss, mind you, but, hey, you get the idea! If you'd like to change any details, including the theme, the vendor gives you all freedom to do so.
Las Vegas invitation
Here's another invitation that's a bit on the retro side. The unique form of entertainment that could only be witnessed in Las Vegas showrooms is vividly depicted by a showgirl's outfit. The feather headdress and playing card symbols transport you to the City of Lights in an instant!
Tuxedo invitation
This is the usual elegant take, what with the suit and tie element, but bear with us here. Why not take it to the next level with the hand-made origami-like detail of the real-life bow tie? The material the vendor uses to make these original bachelor party invitations is luxury or pearl cardboard, with the bowtie being from satin. Quite fancy, but, hey, a killer bachelor party surely deserves these wonderful cards!
Custom printable invitations
This downloadable template can be in your email within minutes of purchase and you can create your customized printable today. This template is fully editable directly in your browser using the Canva app— so there's no need to download any software or fonts. What distinguishes this invitation from others is the various sections that fit on it, ranging from the date and place to the groom's message and the dress code.
Beer label stag do invitations
Is there a more perfect way to announce the party details to the crowd of beer lovers? Just like the invitation above, these are also downloadable and editable, print-at-home invitations that can be customized according to your needs in no time.
Calendar invitation
Humor is always well-received when it comes to joyful events such as bachelor parties. So, bringing it right there on the invite surely helps everyone look forward to the party, right? Another instant invite which you can download as a pdf file and make it ready for a send-out in a few minutes – the video instructions will make it easy for you in case you're unfamiliar with the concept. There's even a suggestion to print it on kraft paper, both because it's more durable and because it makes for an original look.
'Could have been a text' invitation
Well, we all know that bridal showers tend to be more lavish in terms of the details included in the organization. Well, it's simply because gals tend to be more detail-oriented in the décor department, and the guys find it easier to keep things simple. Make a joke with this cheeky invitation and have the crew laugh about it – because they'll surely get you! Though this one's originally made as a groomsman proposal, the vendor gives you the option to change the wording according to your wish.
Invitation with a funny message
We leave the best for last – yes, this is our personal favorite, and for a reason. Does the picture have you confused? Click on the Etsy link and unfold the invitation and you'll see why this invite deserves rave reviews. Though this is a bachelor party invite coming from the groom, it's still worth including in this list.
Free templates
A bachelor party invitation doesn't have to be professionally designed to be original and remembered. Sometimes, it might be a better idea to find a suitable graphic and create the party slogan yourself. Assuming you're the best man, you know the groom best and an inside joke might be much more favored and welcomed than a store-bought general message. After all, a shared sense of humor goes a long way with a  group of friends, and you might want to craft the message yourself.
Here are five examples from five different websites you can seek inspiration on and browse their huge collections of templates. Edit them out easily and fit the wording according to your needs!
This hipster template can be found on the Greeting Island website, where you'll find the Customize button, as well as plenty of other template options. It's great for a pub crawl, wouldn't you agree?
Announce the joyful event in style with this Canva invitation. The illustrated skyline is perfect in case you're planning for a night out, be it a formal affair or a wild party.
If you're planning on creating a FB event and sending out an invite that way, then Template.net has you covered with this customizable online invitation.
Vista has you covered for a wide range of invitations, be they online or printable.
If you're all about bachelor party games in a casino setting, send out these Evite online gif cards – you even get to pick whether you want a mobile or desktop version!
About

Kate

Hi! My name is Kate the woman behind the Party Conclusions. I am mum of two beautiful and hyperactive girl and boy. Main purpose of creating Party Conclusions was to share party ideas of all kinds. Here you would find all kinds of party ideas, recipes, printables and inspiration for your next celebration! You can find out more on about me page!